Last updated on May 5th, 2020 at 01:42 pm
HOMESTEAD — Visiting Robert Is Here, a funky Florida fruit just outside Everglades National Park, is a tradition in my family. We love visiting the Florida Everglades, and every outing must start with a milk shake at Robert Is Here.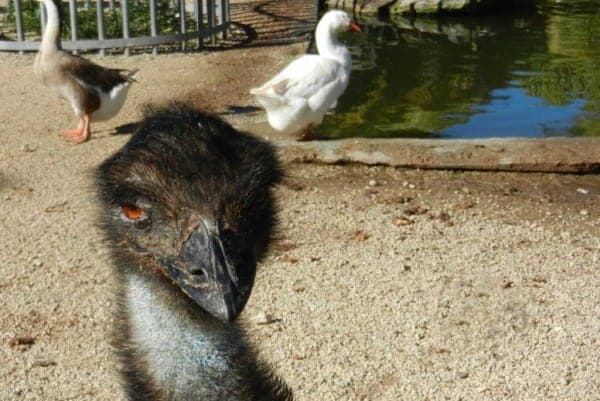 Years ago, we started ordering mouth-puckering key lime shakes, which word-of-mouth suggested was the Robert-Is- Here classic. But now we have come to love various combinations involving coconut, strawberries and passion fruit. On a recent visit, we were tempted by the exotic: canistel mango shakes, a black sapote banana shake or one made with sapodilla and pineapple.
The milk shakes are made to order with fresh fruit, and at busy times, you'll stand in line, place your order and wait for your number to be called.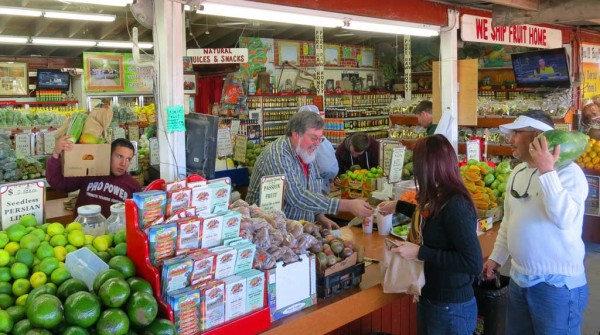 And that's fine. Because you'll want to soak up the ambiance of this fruit stand, not to mention the samples of free exotic fruits scattered throughout — from the scary looking Monstera Deliciosa (looks like a pale green banana with lizard-like scales) to lychees and persimmon and kumquat. (Also: The milkshake operation is very efficient and the line moves fast.)
But there's more to Robert Is Here than the flowers, fruit stand and milk shakes. Out back there all sorts of animals. The stars are the huge rock-like tortoises with legs as sturdy as tree trunks. The tortoises share a cage with a few goats and on a recent visit, we watched a goat play king of the mountain on a tortoise's back. He stayed there, shakily keeping his balance as the tortoise lumbered on. We figure to the goats, this is surfing.
From November to March, there's live music in the afternoon, too. Near the animals is a water playground for kids. It's all free, including peeks at the Model A Ford and 1913 Detroiter.
There's a real Robert, and he IS there. The business, founded more than 50 years ago, has a wonderful story.
At age 6, Robert Moehling's parents set him up to sell cucumbers on that corner. First day, nobody bought them. His dad figured nobody saw the little boy, so he made a sign: Robert Is Here. From that day on, Robert was in business. His website does a great job of telling the full story of this family business. Here's a great USA Today story, too.
If you're interested in what local tropical fruit is available, there's a great calendar on the website. Want to try the guanabana (soursop)? Come in June or July. Sapodilla, anybody? Come in March or April. The list includes several dozen tropical treats.
Robert Is Here
19200 SW 344th St, Florida City, FL 33034
Phone:(305) 246-1592
Robert Is Here is open 8 a.m. to 7 p.m. daily but closes in September and October. It's about 10 minutes off the U.S. 1 route at the corner of Palm Drive/SW 344th Street and Tower Road. Just follow the sign for Everglades National Park.
What's near Robert Is Here?
Everglades National Park, of course, is a key destination. Here's a Florida Rambler guide filled with useful visitor tips. We advise that there's an excellent visitor's center and if you want to see wildlife, take the Anhinga Trail, which is four miles beyond the visitor's center. Beyond that, there are many excellent places to hike and paddle, as well as a great boat tour on Florida Bay at the end of the road in Flamingo.
The Redland rural area near the Everglades is full of interesting places to visit and tasty experiences, including Fruit and Spice Park, Schnebly Redland's Winery plus strawberry farms and a historic railroad village. This is a guide to the Redland region.
Knaus Berry Farm, for strawberry milks shakes and Florida's best cinnamon rolls, in Homestead.
R.F. Orchids gives terrific free garden tours at 11 a.m. and 3 p.m. Saturdays and Sundays.
Lodging: There is camping in Everglades National Park, of course. I hear good things about the inexpensive Everglades International Hostel.
A long-time local businessman bought the Hotel Redland in downtown Homestead and has turned the 1904 hotel into a bed and breakfast with a good home-cooking restaurant in it. I've stayed there and found it to be a friendly place. There are a few rough edges, but it is clean, quiet and full of local character.